The Best Way to Travel to and from Houston, TX
Day Flier is a network of air and ground logistical specialists who optimize business transportation for successful professionals. We believe in the power and importance of time, which is why we dedicate ourselves to getting you to where you need to be at the time you need to be there.
Transportation To and From Houston
We at Day Flier provide our extensive services in the Houston area. We can book and charter flights to and from William P. Hobby Airport by using one of the hundreds of small-city airports within 150–600 miles. These chartered flights create great value because within this range there are typically no direct commercial airline flights. Day Flier's operators are able to depart from one of the several Houston airports that are more convenient to your home or office than the traditional airline airports. These include:
Sugar Land Regional Airport
12888 S. Texas 6
Sugar Land, TX 77498
West Houston Airport
1800 Groschke Rd
Houston, TX 77094
Ellington Airport
510 Ellington Field
Houston, TX 77034
William P. Hobby Airport
7800 Airport Blvd.
Houston, TX 77061
Cities in the Houston Range
The following is a small sample of the almost 300 airports that Day Flier operators can bring you to within a 150-600 mile range of Houston. Click here to view the entire list. For many of these cities, airlines either can't bring you there or do so inefficiently.
Pensacola, FL
Baton Rouge, LA
Monroe, LA
Carlsbad, NM
Las Cruces, NM
Shreveport, LA
Ardmore, OK
San Angelo, TX
Longview, TX
Abilene, TX
Amarillo, TX
Austin, TX
Dallas, TX
Lubbock, TX
Hundreds more small-city airports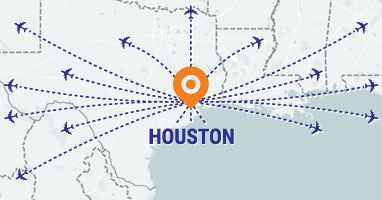 This is by no means an exhaustive list of the cities we can charter a private flight to and from. Please contact us to learn more locations that will assist you in getting to and from Houston.
What We Do
Day Flier is the only booking service that has the capacity to plan out the trips of our clients with precise calculations of flight times as well as drive times. Before the chartered flight has been booked and the ground travel has been arranged, our online booking algorithm is able to provide you with an accurate timeline of your trip. We will then compare timelines of driving and actual airline flights for the same trip so that you can ensure using Day Flier is the best option for you. The timelines include the commute to the airport, the amount of time spent in the air, the commute to your meeting destination, travel time back to the airport, return flight time, and the duration of the car ride home. Because of this, you will know exactly when it is time to leave your office to make your meeting on time.
How We Do It
We use a set of complex algorithms that take all of the factors of travel into account. Besides time spent commuting and in the air, we also take into account layover time, time zone differences, and the next departing flight time. If you choose the airline path, our algorithm will even calculate whether or not you will need to book lodging or a vehicle in case your trip unexpectedly extends beyond a day. Those who choose to use Day Flier rarely need to stay overnight for a one-day meeting because the operators in our network are often able to convert 2-day business trips into half-day excursions.
We have partnerships with private charter flight operators to get you from a metro area to a smaller city or town, and back, when there no commercial airlines available.
The Benefits of Private Chartered Transportation
A chartered flight from Day Flier allows you to avoid the routine travel hassles that accompany important business trips. Instead of driving to the airport, parking, waiting to board, waiting to take off, waiting at baggage claim, and then waiting to check into your hotel, a chartered Day Flier flight route takes you directly from your home or office to your final destination.
With all of the waiting around removed from the traveling equation, those who utilize Day Flier's services will have more time to focus on their productivity. This means more research being done, more numbers being crunched, more pitches being practiced, and more deals being closed.
About Houston, TX
Houston is the fifth largest metropolitan area in the United States, with 6,177,035 proud residents. Because of the amount of industry, business, and commerce located in the city, many people in business are traveling to and from it on a regular basis.
Countless businesses are based in Houston, yet many of these industries have plants, refineries, branches, and partners in smaller cities or near rural areas. It may be necessary to visit these locations for business meetings or inspections, but driving would take too much time and the location is inaccessible on a traditional airline. A chartered flight through Day Flier is a perfect solution.
Request a Quote
Requesting a quote from Day Flier is simple. The only information you need is the locations you are travelling to and from, the date and time of your meeting, an approximation of how long your meeting will last, and how many people will be included in your party. With this information we will be able to calculate the price per aircraft and help you figure out how Day Flier can be your best option.
Please feel free to contact us with any further questions you have about Day Flier. We look forward to helping you maximize your time during your trip to or from Houston.